DiSCover Your Financial Potential
Join us for an informative webinar specifically developed with International STUDENTS in mind. Learn about budgeting, basic banking, credit building, and identity theft, plus an introduction to our key student membership features and benefits to take charge of your financial future.
Student Products & Services
We have the financial tools that will help you stay ahead of the curve!
💰
Managing your money shouldn't be as hard as your homework. Open an account that fits you and campus life. Enjoy four convenient campus locations and access your account anytime, anywhere.
💳
Kick-start your financial future and start building credit with a card exclusively designed for students. Pay no annual fee, enjoy the lowest rates around, and start building your credit all at the same time.
🎓
Take control of your future. Responsibly fill funding gaps after you've exhausted other sources of aid, pick a payment plan that works for you, and most importantly, reach your dreams!
💸
Send or receive electronic wire funds transfers, across the country or the world, so you can cover tuition, living expenses, or other financial needs with ease.



Stay Connected!
Join our WhatsApp group to receive updates from the USC Credit Union team and get your questions answered! We're here to help make your big move to USC a breeze.

Click here or scan the QR code to join our WhatsApp group!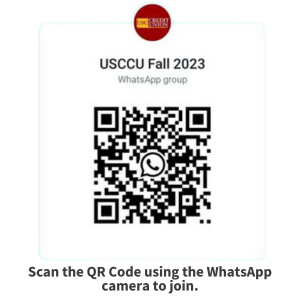 💡
Financial Education
One of the core philosophies of the credit union movement is people helping people. We demonstrate this philosophy most often through our products, services, and commitment to financial education. We provide free financial education tools, which include a series of interactive modules that cover key financial concepts such as saving, investing, credit scores, credit building, student loans, debt consolidation, and more!